Asiknya Weekend #dirumahaja Pake Cara Ini. Anti Boring-Boring Club!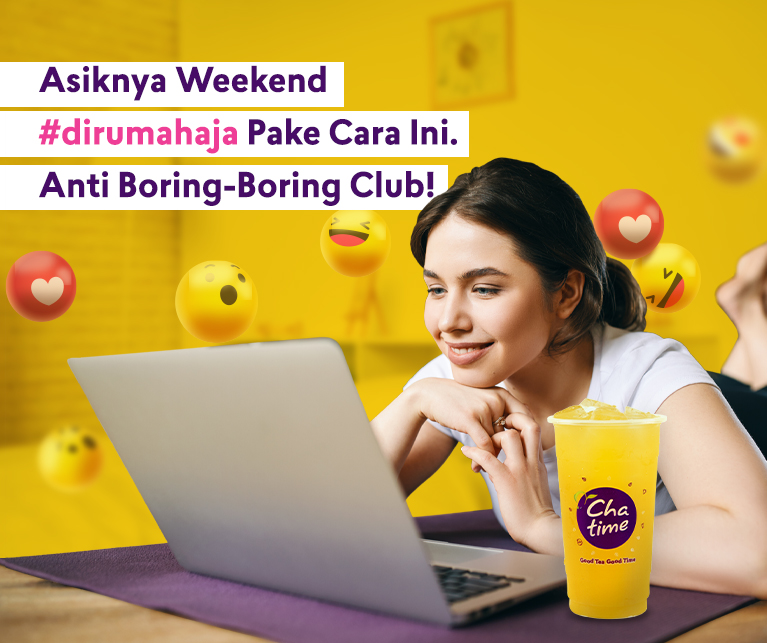 Chatimers, pandemi Covid-19 belum berakhir sampai sekarang, nih. Kita masih dikelilingi virus-virus jahat yang bisa bikin tubuh kita lengah dan lemah. Tapi, jangan khawatir! We got your back, Chatimers. Kita pasti bisa melalui ini bareng-bareng.

Salah satu cara preventif yang bisa kita lakukan adalah dengan menjaga Protokol Kesehatan 5M, khususnya mengurangi mobilitas. Kalau misalnya niih, Chatimers lagi gak ada kepentingan di luar rumah, yaaa sebaiknya stay #dirumahaja, OK? Kamu bisa lakukan beberapa kegiatan asik ini selama weekend #dirumahaja. Check it out!
Movie Marathon Bareng Popcorn
Cara seru nikmati weekend yaa movie marathon! Mulai dari nonton web series, konser online, film, K-Drama, semua dijabanin daaah. Buat yang suka banget sama Korea, cobain deh nonton K-Drama kayak Move To Heaven, My Roomate Gumiho, Hospital Playlist Season 1 & 2, Penthouse, atau K-Movie kayak Sweet and Sour. Jangan lupa siapin popcorn dan minuman favorit kamu juga yaa, biar movie marathon makin seru!

Me Time, Me Time, Me Time!

Setelah capek kerja atau sekolah online dari hari Senin-Jumat, ini waktunya bebasin diri kamu dari rutinitas. Kamu bisa lakuin hal apa aja yang kamu suka atau hal baru yang pengin kamu coba. Misalnya ajaa, belajar merajut, melukis di atas canvas, atau coba-coba bikin nail art, siapa tau bisa jadi cuan di masa depan? Uhuuy~
Treadmill Marathon, Buat Lari dari Kenangan
Mana di sini yang weekend-nya malah galau mikirin mantan? Chatime peluk sini, fufufufu. Mantan jangan di galauin, udah biarin doi ke laut aje! You deserve better, Chatimersku sayang. Nah, daripada galau nangis seharian abisin tissue, mending sehatin badan, yuk. Kamu bisa cobain treadmill marathon #dirumahaja. Dengan berolahraga, kita bisa lebih bahagia, lho. Apalagi sambil ditemenin minuman Chatime yang manis, makin hepi dah tuuuh~
Masak-Masak Bareng Ibu di Rumah
Di rumah aja bukan berarti bikin kamu berhenti berkreasi. Kamu bisa cobain resep-resep baru buat ningkatin skill masak kamu, Chatimers. Misalnya ajaa, cobain bikin Molten Cake pakai Chatime Milk Tea dari resep Kak Luvita Ho, Juara Masterchef Season 4. Kamu bisa intip resep dan tutorialnya di IGTV @chatimeindo, yaah. Buat beli bahan utama si Chatime Milk Tea juga gampang, kok, tinggal pesen di sini.

Itu dia beberapa kegiatan rekomendasi Chatime biar weekend kamu #dirumahaja makin asik. Stay safe stay healthy yaa, Chatimers!