Ide Ala Chatime untuk Isi Weekend selama #dirumahaja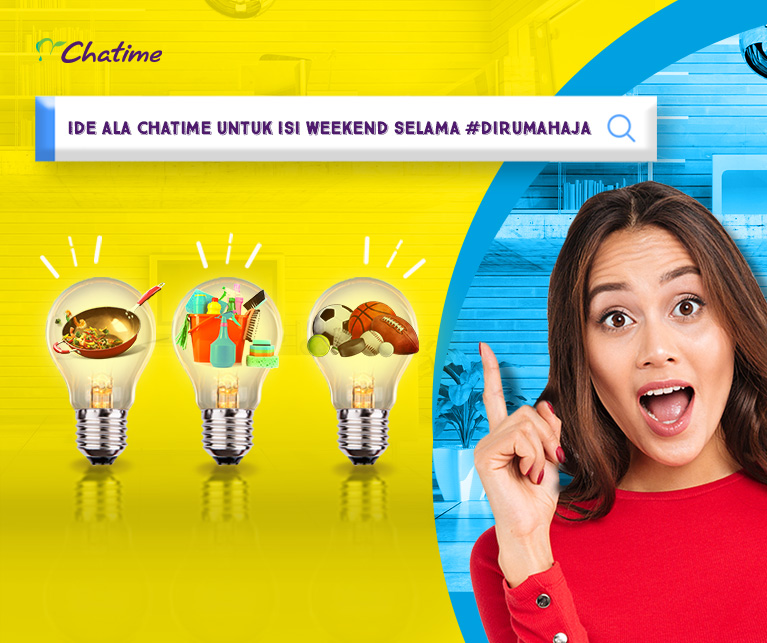 Happy Weekend, Chatimers! Meskipun weekend, tetap be aware dengan kondisi sekarang untuk tetap #dirumahaja ya.
Siapa yang kangen malam mingguan sama teman, jalan-jalan, nonton film, nongkrong, staycation? .
Gak usah bingung dan galau, Chatimers. Ada segudang aktivitas yang bisa dilakukan untuk menghabiskan waktu weekendmu.
Luangkan Waktu dengan Keluarga
Tidak ada tempat yang lebih baik lagi selain meluangkan waktu bersama keluarga yang kalian cintai! Weekend pas banget untuk menikmati waktu luang yang sangat berharga untuk berkumpul, minum Chatime favoritmu bareng keluarga dan mengobrol bersama keluarga.
Ayo pergunakan momen langka ini sebagai waktu untuk mendekatkan diri kepada seluruh anggota keluarga kamu.
Membersihkan Rumah secara Mendetail
Weekend adalah saat yang tepat untuk membersihkan rumah secara mendetail lho. Mulailah dengan membersihkan debu-debu yang menempel pada perabotan hingga plafon rumah kamu ya, Chatimers. Lalu, gantilah sprei agar bakteri dan tungau pergi dan membuat tidur kalian nyenyak deh. Abis itu, bisa juga bersihkan kamar mandi agar tidak menjadi lembab.
Chatimers, yuk sisihkan waktu kamu dalam sehari untuk berolahraga. Dengan olahraga, walaupun hanya sebentar bisa buat tubuh kamu jadi lebih sehat dan menguatkan sistem imun kamu lho! Selain itu, dengan berolahraga juga bisa buat pikiran kamu jadi lebih rileks.
Jangan lupa abis olahraga pesan minuman Chatime kesukaan kamu ya. Rekomendasi abis olahraga pastinya Pure Lemon with Honey dan Jasmine Green Tea untuk menghilangkan rasa capek abis olahraga.
Belajar Masak Makanan yang Disukai
Memasak merupakan salah satu ide yang bisa kamu lakukan untuk mengisi waktu luang. Pelajarilah resep-resep yang bisa kamu cari di media sosial atau bisa juga belajarlah masak dari mama kamu. Ini bisa juga menambah kebersamaan kamu dengan mama-mu.
Untuk menambah semangat kamu melewati weekend ini, Chatime punya promo untuk kamu.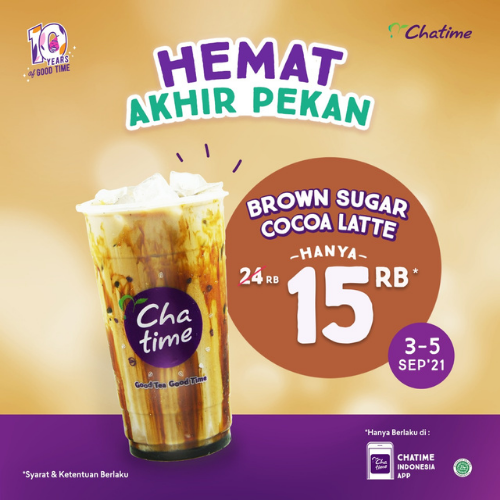 Jadi, Chatimers, setiap hari Jumat, Sabtu dan Minggu, Chatime ada promo khusus untuk para Chatime Mobile App user. Buruan download aplikasinya disini untuk AppStore dan disini untuk PlayStore. Ssttt.. Jangan lupa juga ikutin Instagram @chatimeindo untuk memantau promo-promo Chatime ya!
Happy Weekend