Selamat! Ini Pemenang Chatime Design Competition 2021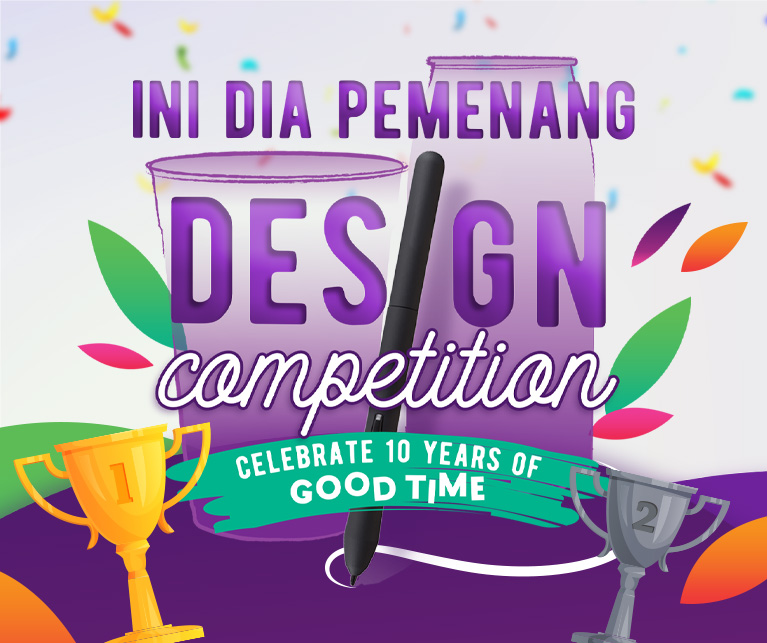 Chatime Design Competition 2021 sudah berakhir pada 04 April 2021 kemarin, dengan lebih dari 800 submission bertemakan Chatime 10th Years of Good Time. Terimakasih atas antusiasnya, Chatime harus akui kalau semua karya Chatimers keren-keren banget!
Oh iya, di Chatime Design Competition 2021 kali ini, dijuriin langsung sama Kak Faza Meonk, content creator dari @jukihoki, lho. Without further ado, yuk cekidot Museum Karya Pemenang Chatime Design Competition 2021 berikut ~~
JUARA 1 KATEGORI CUP: Oessella | @oessella
Pada design yang dibuat oleh Oessella, terdapat angka 10 berisikan momen manis bersama Chatime, mulai dari menemani saat kencan, bekerja, melakukan hobi, hingga saat di perjalanan. Selain itu, ada 4 design lingkaran juga. Lingkaran pertama melambangkan Chatime hadir di Indonesia dan membawa Fun, Fresh, dan Happiness di banyak kota yang terwakili pada 3 lingkaran lainnya.
JUARA 2 KATEGORI CUP: Emili Keisha | @pensilemili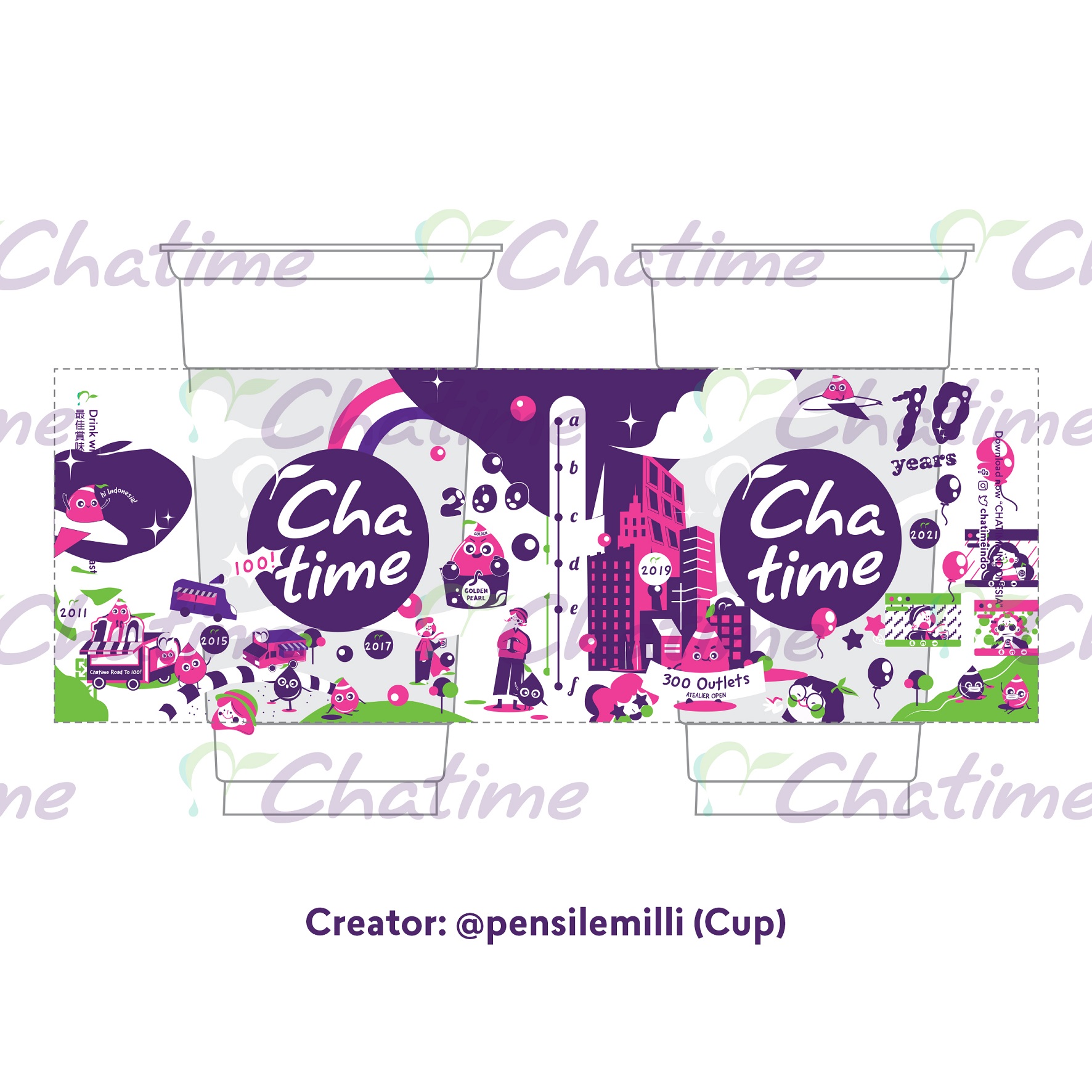 Judul design Emili adalah Chatime 10 Years Milestones. Ia merekap 5 milestones besar Chatime hingga tahun 2021. Mulai dari tahun 2011, Chatime menyapa Indonesia. Kemudian tahun 2015, Chatime mencapai outlet ke-100 dan mengadakan 'Road Trip to 100'. Tahun 2017, Chatime membuka outlet ke-200 dan mengeluarkan topping spesial: Golden Pearl. Tahun 2019, Chatime akhirnya punya 300 outlets di Indonesia yang dirayakan dengan membuka Chatime Atealier. Setelah melewati banyak hal, dengan lebih dari 300 outlets menemani Chatimers semua, Chatime berhasil mencapai satu dekade pada tahun 2021.
JUARA 1 KATEGORI POPCAN: Nadya Felisha | @ndfls.mood
Nadya merangkum sepuluh tahun perjalanan Chatime dalam sebuah karya yang bertemakan museum. Menurutnya, sebuah perjalanan yang berkesan akan menjadi sebuah kenangan yang tidak mudah untuk dilupakan. Museum of Chatime memamerkan beragam identitas Chatime seperti rasa, kemasan, gerai, dan tidak lupa maskot dari Chatime sendiri. Karena slogan 'Good Tea Good Time' bukan hanya berbicara tentang saat ini melainkan juga masa lalu dan masa depan.
JUARA 2 KATEGORI POPCAN: Yohanes Tenggara | @dreamslandia
Yohanes punya cerita menarik dibalik design-nya, nih. Ia mengilustrasikan momen kehidupan yang dijalani oleh hampir setiap insan. Potret kehidupan yang diawali dengan kebersamaan mencicipi nikmatnya Chatime ketika berkenalan dengan Yang Tersayang pada tahun 2011, bertunangan, menikah, hingga memiliki si Kecil. Suka duka, pahit manisnya kehidupan, Chatime Indonesia senantiasa menemani momen manis dari awal hingga akhir masa.
Selamat yaa untuk para pemenang! Terima kasih juga untuk Chatimers semua yang sudah berpartisipasi dalam memeriahkan Chatime Design Competition 2021. Sampai jumpa di Chatime Design Competition dengan tema-tema yang menarik selanjutnya!