Jadikan Sampah Plastik Lebih Bermakna Dengan Gerakan SAPU PLASTIK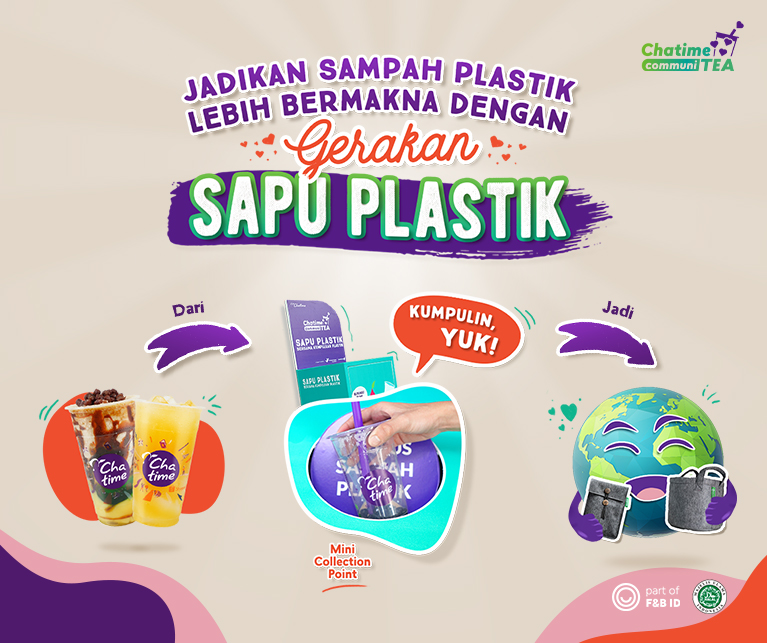 Seberapa sering sih Chatimers menggunakan plastik sehari-hari?
Plastik sudah menjadi hal yang tidak terpisahkan dari kehidupan kita. Setiap kali berbelanja pasti kamu akan menemui plastik dalam bentuk gelas, botol, ataupun kantong. Coba bayangkan kalau plastik-plastik itu langsung dibuang setelah digunakan, lingkungan kita tentunya akan dipenuhi oleh sampah plastik yang menumpuk.
Eitsss… Nggak usah panik, kamu bisa ambil bagian untuk bikin sampah plastik nggak menumpuk dengan ikutan langkah sustainable dari Chatime bersama Plasticpay, yaitu Gerakan SAPU PLASTIK (BerSAma KumPUlkan PLASTIK).

Melalui gerakan ini, F&B ID melalui Chatime mengajak seluruh masyarakat untuk turut berkontribusi dalam mengurangi sampah plastik dengan melakukan upcycling. Caranya mudah, lhoo, cukup dengan:
1. Mengumpulkan gelas/botol plastik bekas minuman Chatime atau sampah plastik lainnya
2. Mengunjungi Mini Collection Point (MCP) atau dropbox yang tersedia di beberapa gerai Chatime berikut:
Chatime Kawan Lama
Chatime Central Park
Chatime Puri Indah Mall
Chatime Lippo Mall Puri
Chatime Citra 6
Chatime Atealier Kota Kasablanka
Chatime Blok M Plaza
Chatime Lippo Mall Kemang
Chatime Mall Artha Gading 2
Chatime Lippo Plaza Kramat Jati
Chatime Green Terrace
Chatime Shell MT Haryono
Chatime Senayan City
Chatime FX Sudirman
Chatime Stasiun Gambir
Chatime Supermall Karawaci
Chatime AEON MALL BSD
Chatime The Breeze BSD
Chatime Foodcourt Living World Alam Sutera
Chatime Atealier Living World Alam Sutera
Chatime QBIG BSD 1
Chatime Benton Junction
Chatime The Park Sawangan
3. Masukan gelas/botol plastik atau sampah plastik lainnya yang kamu kumpulkan ke Mini Collection Point (MCP) atau dropbox tersebut
Sampah plastik yang terkumpul akan didaur ulang oleh Plasticpay menjadi kain fiber kokoh yang siap untuk disulap menjadi beragam kerajinan bermanfaat dengan nilai tambah, seperti tote bag, storage bag, coffee sleeve, laptop case, dan pouch bag oleh UMKM mitra Plasticpay.
Gerakan SAPU PLASTIK ini tidak hanya mengajak kamu untuk lebih peduli terhadap lingkungan, tapi kamu juga dapat membantu kesejahteraan para UMKM yang mengerjakan berbagai produk kerajinan upcycle dari Gerakan SAPU PLASTIK ini.
Jadi, tunggu apa lagi? Ayo, kumpulkan gelas/botol bekas Chatime dan sampah plastikmu ke Mini Collection Point (MCP) terdekatmu yang sudah tersedia di 22 gerai Chatime yang akan terus bertambah lagi pastinya. Sayangi bumi dimulai dari kamu, Chatime, dan kita semua!