Lagi Sering Bete? 3 Jurus Jitu Ini Bisa Bikin Mood 100% Naik!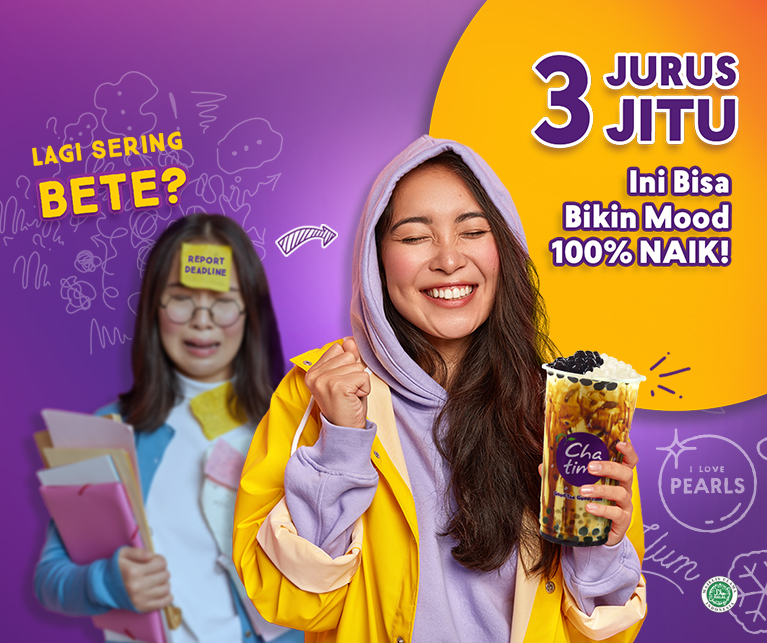 Yayy! Akhirnya hampir weekend lagi, gak sabar banget pengen cepet pulang kantor dan langsung me-time. Siapa di sini yang paling suka me-timenya jajan Chatime? Hihihihi
Ngomong-ngomong soal me-time, Chatimers sadar gak kalo dengan me-time, bisa balikin mood dan semangat kamu lagi setelah seminggu lelah bekerja dan belajar. Belum lagi pas masa pandemi gini, mood jadi gampang cranky. Cranky karena khawatir lah, kangen pacar, pengen nongkrong, dan banyak lagi.
Sebenernya nih, setiap tanggal 10 Oktober ada peringatan World Mental Health Day, Chatimers. Lewat peringatan ini, kita diingetin kalau hidup harus seimbang. Produktivitasnya dapet, tapi happy-nya gak ketinggalan! Kayak Chatime dong, tagline fun, fresh, and happiness selalu di hati. Ihiy~
Yuk rehat sebentar yuk, biar badan dan pikiran gak stress. Kamu bisa ikuti cara di bawah ini buat dapetin momen Good Tea Good Time ala Chatime! Plus, bisa jadi rekomendasi kegiatan saat weekend juga, lho ;)
Sebelum balik ke realita di hari Senin, ayo maksimalkan waktu kamu untuk me-time. Ada yang suka me time dirumah aja, nonton, tidur, ngemil, ada juga yang hobi jalan-jalan sendiri, menjelajahi dunia luar, hahaha. Eitss, tapi jangan lupa ikuti protokol kesehatan ya.
Quality time bareng kesayangan
Karena sibuk kerja dan belajar jadinya jarang ngobrol bareng keluarga, teman atau si Doi, deh. Makanya, waktu ini tepat banget untuk kamu quality time sekalian perkuat hubungan kamu dengan kesayanganmu.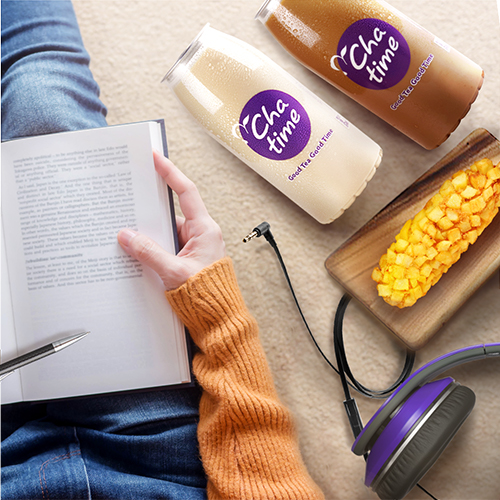 Semuanya gak bakal lengkap tanpa Chatime
Ini sih udah pasti banget, kalian mau me-time ataupun ngumpul bareng your loved ones gak bakal lengkap kalo belum ditemani sama Chatime. Kalo kamu lagi me-time sambil jalan-jalan bisa banget nih pesan Popcan Chatime, pastinya praktis + Good to Go. Kalo lagi kumpul rame-rame udah pasti Gede Banget Chatime solusinya, seliter gak abis-abis!
Minuman Chatime juga bisa kamu customized tingkat kemanisannya, lho! Jadi kalo kamu suka manis, bisa request extra sugar! Terlebih lagi kini Chatime udah resmi halal, jadi aman untuk kamu konsumsi, ya. Tunggu apalagi? Yuk langsung pesan Chatime di Chatime Indonesia App, GoFood, GrabFood, Shopee Food dan store Chatime terdekat-mu. Jangan lupa pantengin terus Instagram @chatimeindo untuk promo-promo menarik hanya untukmu!