Sahabat Suka Duka, Ini 3 Sifat Asli Capricorn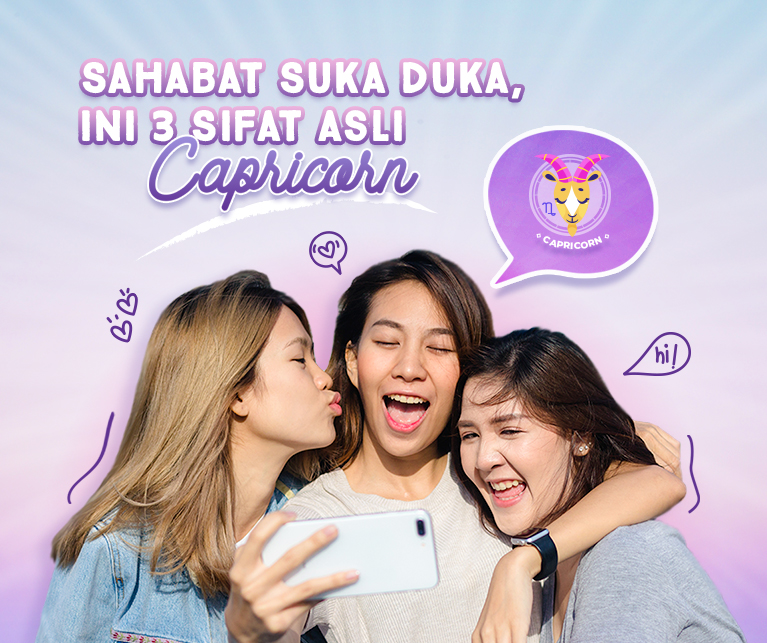 Yuhuuuuuu~ udah akhir tahun ajah, nich.. Kalo ngomongin soal Desember, zodiak apa yang nongol di pikiran Chatimers? Udah pasti kalo gak Sagitarius, yaa si Capricorn yang super duperrr sabar menghadapi hujan dan badaiii hiyahiyaaa..
Selain dikenal penyabar, ternyata Capricorn ini setia polll baik ke pasangan atau ke sohibnya.. Langsung lirik kanan-kiri nyari yang zodiaknya Capricorn nih biar sehidup semati, hahaha.. Gak cuma itu aja, ternyata si Capricorn ini punya 3 sifat yang buat dia makin boyfriend/girlfriend and bestfriend materials. Penasaran?
Si ambisius nan pekerja keras
Udah gak heran lagi kalo kamu liat Capricorn duduk di depan laptop dari subuh ketemu subuh. Tapi, bukan nge-game lho ya, Chatimers, yaa entah ngetik, ngedesain, pokoknya kerja lahh. Saking workaholic-nya, sampai pas makan bareng aja doi masih bahas kerjaan. Pokoknya si Capricorn ini wajib masuk ke circle of friends kalian deh, biar kecipratan pinternya dan rajinnya juga!
Si burung hantu yang bijaksana
Siapa disini yang kalo lagi galau, demen curhat ke temennya? Acungkan tangan! Yessss, ini panggilan untuk kalian kaum yang suka galau, wajib banget punya 1 temen yang berzodiak Capricorn, yayy! Ternyata nih, zodiak yang satu ini dewasa banget lho, jadinya keliatan bijaksana tiap kali ngasih nasehat. Bye-bye overthinking dech!
Si pecinta angka yang super teliti
Kalo ngomongin soal angka, waduhhh auto pusing tujuh keliling, apalagi disuruh ngitung duit.. Tapi hal ini gak berlaku untuk si Capricorn, dia demen banget sama angka jadi gak heran kalo teliti banget ngitungin promo dan cari yang paling hemat! Bisa terhitung pelit sih ya, tapi pelit in a smart way, kayak kalo jajan Chatime, langsung buka Aplikasi Chatime Indonesia, GrabFood, GoFood, ShopeeFood, dan bahkan Instagram @chatimeindo buat pantengin promo mana yang paling hemat.
Gak usah pusing, kalau mau jajan langsung ajakin Capricorn aja tuh! Doi tau mana yang paling hemat + nikmat kayak minuman kekinian dari Chatime yang udah dijamin halal. Chatime spill promo akhir tahun terbaik di GrabFood dan GoFood nih, sikat! Selamat jajan~