Selamat Hari Ibu! 3 Hal Sederhana Ini Bisa Bikin Mama Tambah Bahagia, Lho!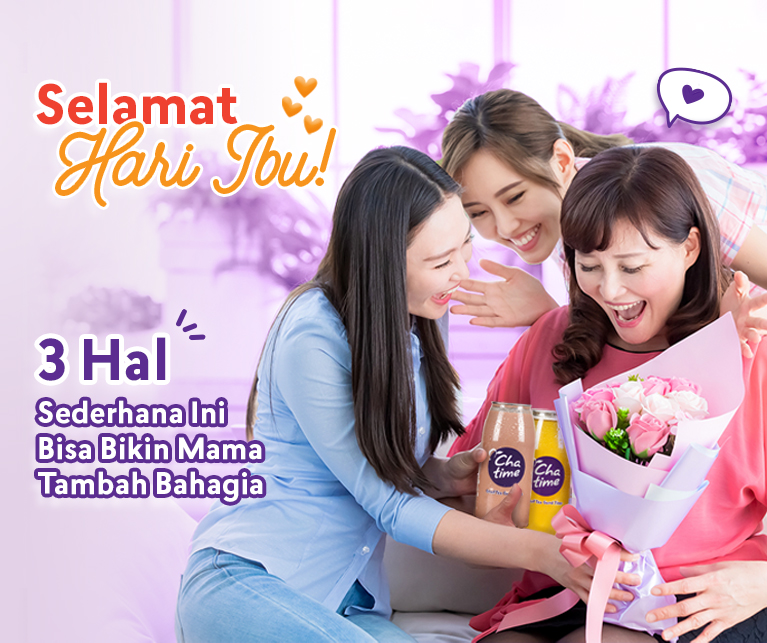 "Ma, buku aku yang di meja mana, yaa? Kemarin kayaknya aku taruh di sini…"
"Ma, aku ujian besok. Doain ya ma biar nilai aku bagus…"
Siapa di sini yang selalu nanyain tentang barang yang hilang, minta doa biar nilai ujian bagus, bahkan curhat tentang doi ke mama? Hayooo, yang senyam-senyum ketauan nih sering begini!
Mama, ibu, umi, mommy atau apapun panggilan terbaik kalian untuk mereka, memang the best yaa, Chatimers. Sosok mereka selalu ada untuk kita, selalu menjadi tim support nomor satu, dan selalu yang bikin kita kangen untuk pulang ke rumah. Pasti kalau sampai rumah, langsung nanyain mama dimana, mama masak apa, dan lainnya.
By the way, Chatimers inget kan, kalau tepat di tanggal 22 Desember diperingati sebagai Hari Ibu? Sebagai tanda cinta kita ke sosok wanita hebat yang tiada dua ini, yuk luangkan waktumu sebentar untuk mengucapkan Selamat Hari Ibu! Kamu juga bisa bikin momen di Hari Ibu ini jadi semakin bermakna dengan 3 hal sederhana ini, lho, check it out~
Peluk Mama Sambil Bilang "Makasih ya ma, aku sayang mama!"
Yap! Satu pelukan hangat walau sebentar aja bisa bikin mama happy lagi lho, Chatimers. Jangan lupa, sambil memeluk, ucapkan juga rasa terima kasih dan ungkapan sayang atau permintaan maaf kalian juga, yaaa. Buat yang lagi merantau ke luar kota, walau gak bisa meluk mama secara langsung, kan masih bisa chat atau ketemu virtual dengan mama, hehe. Mendengar suara dan melihat wajahnya aja udah bikin hati lega~
Mama Rebahan, Biar Chatimers Yang Beresin Kerjaan
Mama adalah sosok wanita kuat yang gak pernah ngeluh walau capek ini-itu ngerjain kerjaan rumah. Selalu ada aja yang diberesin. Nah, di Hari Ibu kali ini, Chatimers bisa membantu mama untuk mengerjakan pekerjaan rumah. Mulai dari masak, nyuci, sampai ngepel, cuss sikat Chatimers! Bisa yook, bisaaa.
Kasih Hadiah Untuk Mama Biar Happy-nya Double
Siapa sih yang gak suka dikasih hadiah? Mama juga pasti suka, dong! Chatimers bisa banget nih beliin barang, makanan, minuman, atau bunga kesukaannya mama, biar moodnya makin happy. Ide ini juga bisa dipakai buat kamu yang lagi jauh dari rumah, lho. Tinggal kirimin pakai online delivery aja, deh! Atau biar gak bingung, beliin rasa Chatime favorit mama aja dari aplikasi Chatime Indonesia, bisa pilih store Chatime terdekat dari rumah. Sstt, ada promo BELI 1 GRATIS 1 spesial di Hari Ibu 22 Desember 2021, khusus Specialtea Digital Member, lho. Cusss!
Itu dia beberapa ide sederhana yang bisa bikin momen Hari Ibu makin bermakna. Sekali lagi, Selamat Hari Ibu dari Chatime untuk ibu-ibu terbaik kita. Tetap sehat dan semangat selalu, yaaa!
Chatime Good Tea Good Time!