BARU! Pure Lemon with Honey, Kolaborasi Seru dari Chatime x TanahKita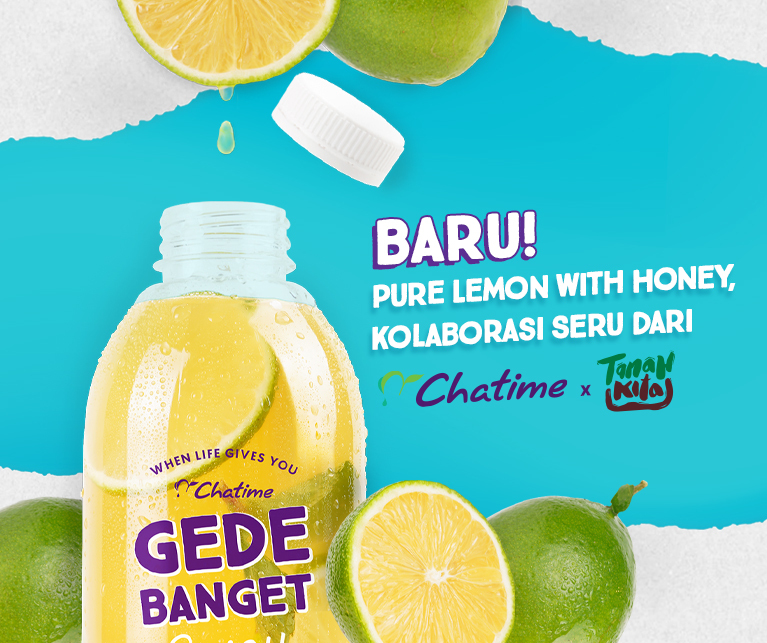 Ssst, ada rasa Chatime yang baru dan seger banget untuk kamu nih, Chatimers! Penasaran?
Yook, mari kita sambut bintang utamanya: Chatime Pure Lemon with Honey! Yaaay~
Minuman Chatime yang kaya akan Vitamin C dari kolaborasi Teh terbaik Chatime, Madu, dan Lemon. Udah kebayang, kan, rasa seger dan manisnya minuman ini, pas melewati tenggorokan kamu yang lagi haus? Apalagi kalau diminum dalam keadaan dingin, beuh segernya berkali-kali lipat!
Ada fun fact dari lemon yang jadi pemeran utamanya nih, Chatimers! Apa ajaa?
Lemonnya bukan sembarang lemon! Chatime pakai Taiwanese Lemon Aiyu, hasil budidaya para petani lokal di Indonesia yang tergabung dalam organisasi 'TanahKita'. Kerennya lagi, dalam organisasi TanahKita ini, para petani diberikan edukasi terlebih dahulu, mulai dari cara menanam, membudidayakan, hingga memanen Taiwanese Lemon Aiyu. Jadi, skill para petani TanahKita, gak usah diragukan, deh. The best!
Oh iya, Taiwanese Lemon Aiyu ini weekly freshly handpicked, lho. Para petani memetik langsung Taiwanese Lemon Aiyu ini dari kebun mereka setiap minggunya. Kesegarannya so pasti, no tipu-tipu!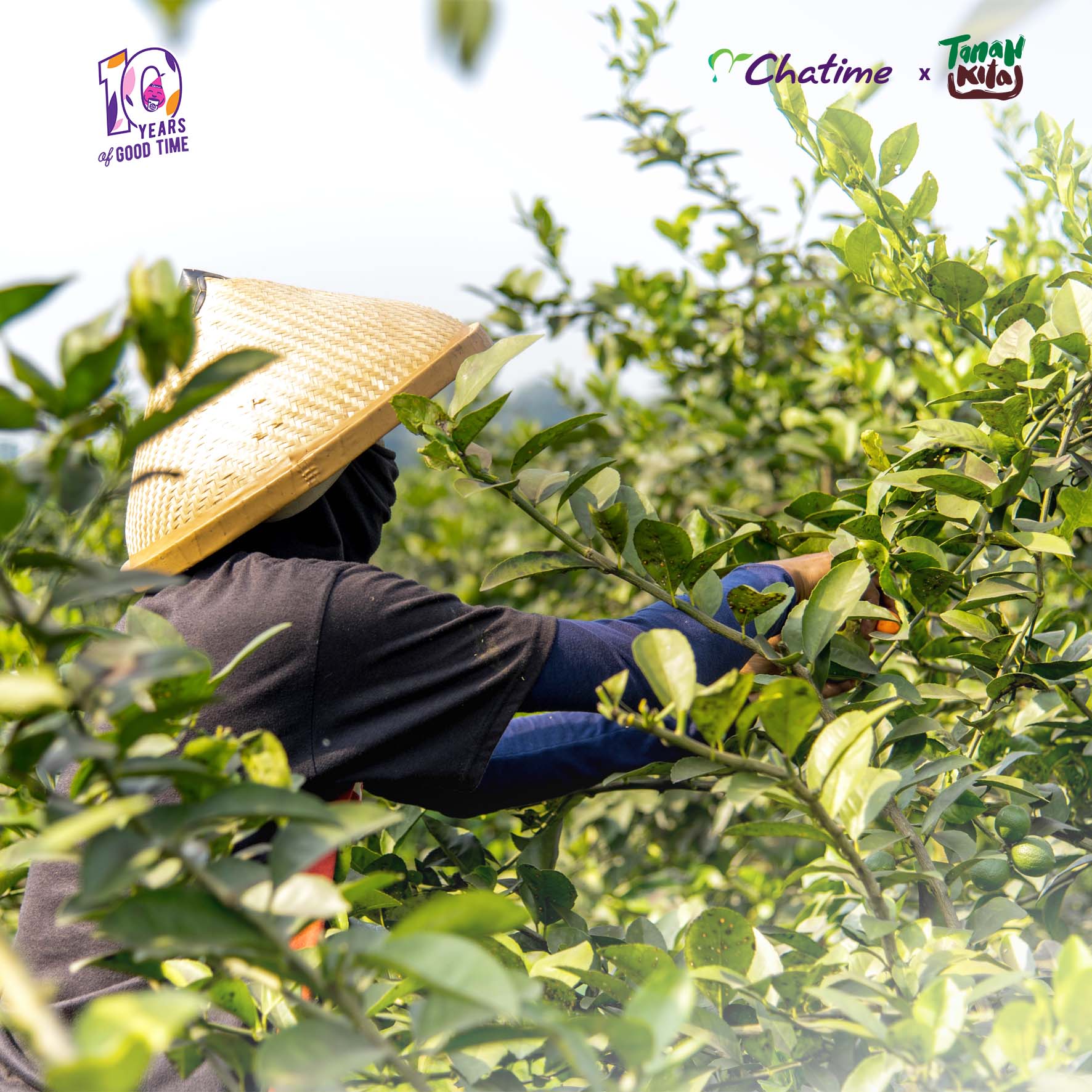 Ada lagi yang unik dari Taiwanese Lemon Aiyu nih, Chatimers. Beda dari lemon yang biasanya berwarna kuning, Taiwanese Lemon Aiyu ini berwarna hijau, lho. Bibitnya yang unggul dan berkualitas menghasilkan buah dengan kulit yang lebih tipis, sehingga airnya juga lebih banyak. Otomatis bikin kandungan Vitamin C-nya jadi lebih poolll, deh!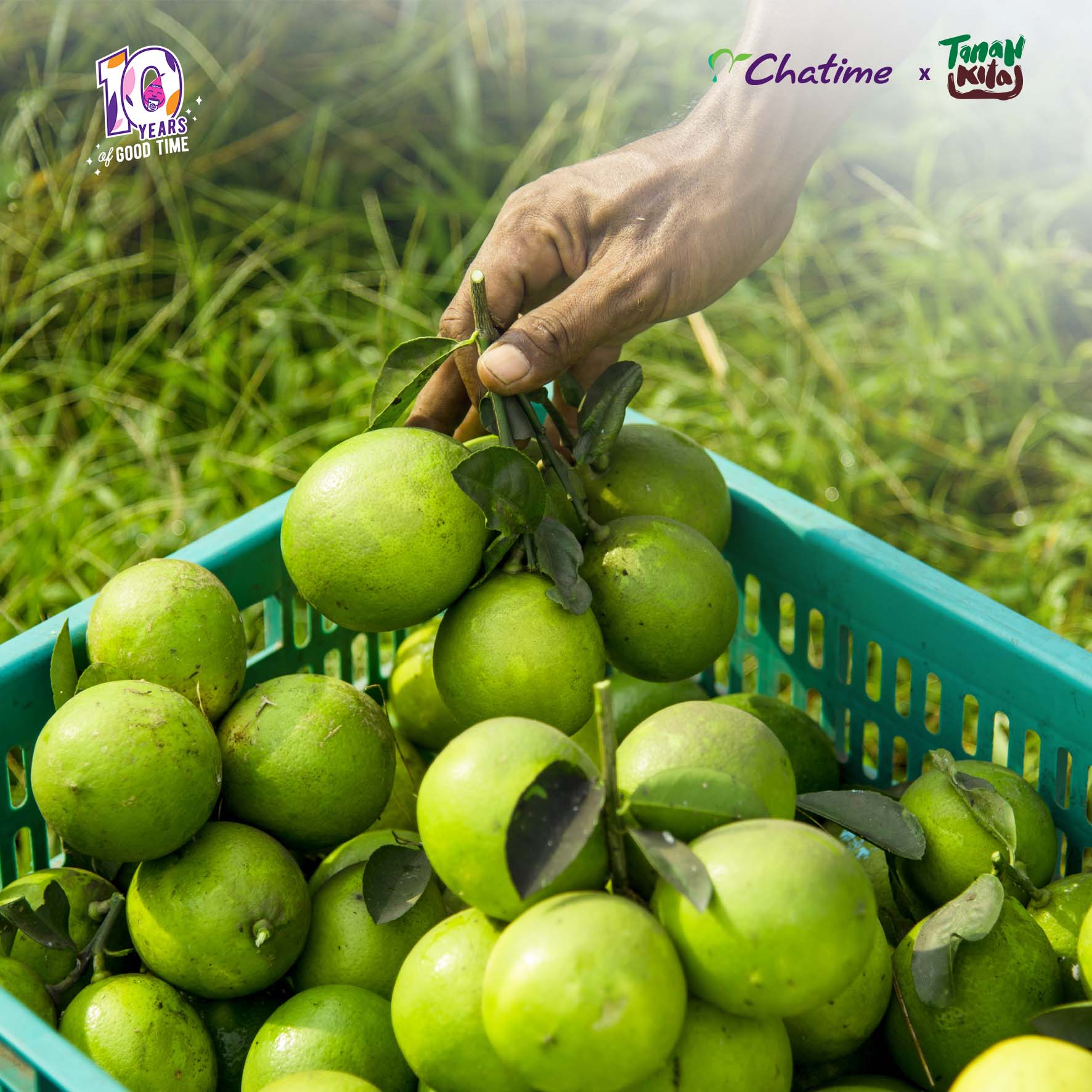 Taiwanese Lemon Aiyu + Madu aja, nih? Emangnya gak pakai gula?
Yap, betul! Bener-bener ASLI, gak pakai gula, dan pastinya Chatime Halal. Cocok banget untuk nge-boost mood dan daya tahan tubuh kamu setiap hari. Pastiin kamu menyimpan Chatime Pure Lemon with Honey dalam kulkas dan tertutup rapat yah, agar kesegarannya tetap terjaga.
Chatime Pure Lemon with Honey tersedia dalam ukuran Chatime 1 liter yang Gede Banget. Pokoknya pas buat jadi stok minuman segar di kulkas kamu, Chatimers. Kalau cuaca lagi panas-panasnya, ya tinggal buka kulkas terus minum, deh. Nikmati manfaat Vitamin C yang bikin daya tahan terjaga dan mood refresh seharian.
Buah Taiwanese Lemon Aiyu juga tersedia di beberapa store ACE Jabodetabek. Tapi kalau mau lebih simpel, kamu bisa langsung pesen Chatime Pure Lemon with Honey di store Chatime terdekat, GrabFood, GoFood, atau Shopee Food, dan e-commerce kesayangan kamu, yah. Harganya gak bikin kantong ikutan haus kok, cuma 65 Ribu aja udah bisa ngerasain kesegaran dari SELITER Pure Lemon with Honey ini. Kuy, pesen sekarang~